What Makes SOC Analyst a Game Changer in 2022?
Posted by:

Securium solutions

Category:

Blog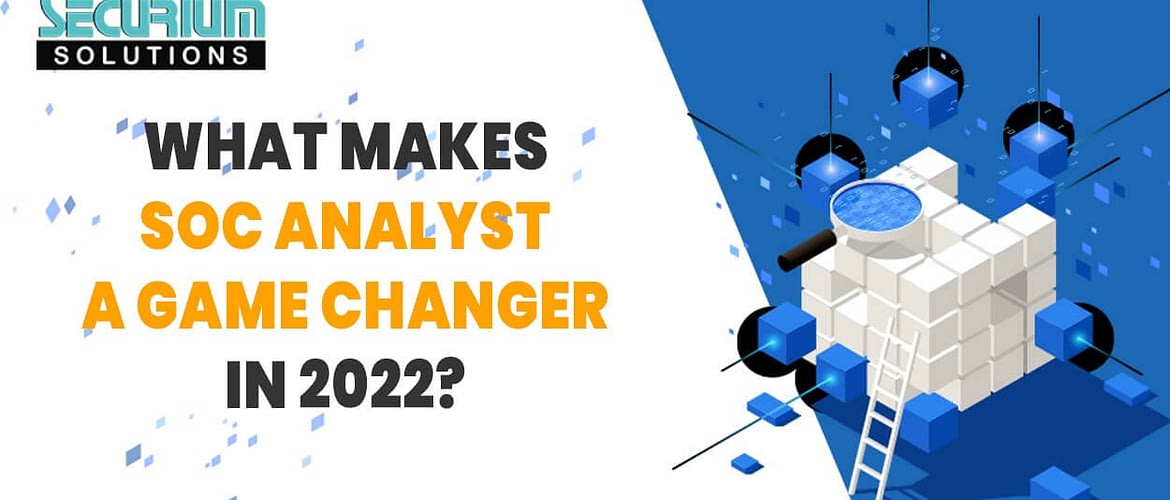 What makes SOC Analyst a game-changer in 2022?
Businesses' ability to generate, collect, and store data enables new business models and revenue streams, but this luxury also comes with vulnerability since organizations become more vulnerable to cyberattacks and have more data to protect. As regulatory bodies increasingly fine organizations for potentially exposing their data to vulnerabilities, organizations are increasingly under pressure to tighten security controls. An organization's challenges not only include dealing with an ever-increasing volume of data but also with regulatory requirements to safeguard it. The adoption of connected supply chains, cloud technologies, and borderless network perimeters have created more attack surfaces over which threat actors can strike.
There is good news in that there are technology solutions available to minimize these threats and secure data today. A single technology cannot be all things to all people.
To get full visibility of threats and vulnerabilities does an organization's risk management team need to devote time to monitoring large volumes of alerts and deciding which need to be addressed, and which can be ignored?
The fragmented process slows down the ability to identify threats and therefore respond to them, which could result in reputational or financial damage to the organization. As attackers are allowed to roam around unnoticed on systems until an analyst prioritizes the alert and investigates it.
By 2022, there will be more cybersecurity jobs than qualified experts, considering two million more cybersecurity jobs will exist than qualified experts. Security monitoring must evolve to enable faster and more accurate detection of cyber-threats.
Recruiting these experts can be a challenge not only due to the skills shortage but also retention, especially if you are planning on employing them for routine monitoring tasks.
Many people start their careers in information security as analysts in security operations centers, and they can become successful through this route.
What is a SOC analyst?
Analysts of SOCs work as part of a team assessing security systems and measures for weaknesses and recommending possible improvements to an organization's infrastructure from threats.
SOC in the job title refers to a group of analysts and other security professionals working together at a single location, an operation which is called a security operations center.
SOCs can be internal teams that serve a specific company or can be outsourced services that provide security for multiple companies at the same time.
InfoSec newbies and experienced pros both hold the title of SOC analyst. Although the job can serve as a stepping stone to more lucrative careers in cybersecurity, it is also a demanding and repetitive job that can lead to burnout.
Let's examine what it takes to succeed in the position and the necessary skills.
SOC Analyst Job Description
Prelude Institute describes them as "watchdogs and security advisors," which encapsulates their dual role of recognizing attacks as they happen and strengthening defenses to eradicate them in the future.
This means installing security tools, investigating suspicious activities they detect with those tools, supporting audit and compliance initiatives, and participating in security strategy development.
In practice, dealing with false positives, which happen quite often, can be the job's most difficult task, especially at the entry level.
Career path for SOC analysts
As an analyst, you will have to take the first step in this career path even before you begin work. There are no real differences between this and many other starting security jobs that include analyst as a title.
Before moving to a security position, people usually work in network administration or a related IT discipline for a few years.
Nonetheless, you're not unusual for your first SOC Analyst job to be with a Tier 1 organization. In general, they are employed in three tiers, with each employer attaching slightly different duties to each job title.
First-tier is responsible for optimizing and managing security tools, assessing the urgency of incidents, and escalating issues as necessary.
A Tier 2 analyst handles serious attacks escalated from Tier 1, taking stock of the attack scope and affected systems as well as collecting data for further analysis.
Tier 3 analysts perform penetration tests and vulnerability assessments as well as work proactively to find potential weaknesses and stealthy attackers. Tier 3 analysts look at datasets in-depth to find out what's happening during and after attacks.
SOCs are comprised of many jobs in addition to these tiers. On top of this, a team of engineers builds and maintains the systems that analysts use, and on top of that are the SOC managers. Generally, they might find themselves in one of these roles when they "graduate".
SOC analyst Job opportunities and salaries
All this has got your attention. Are you keen on working as a SOC analyst? They are often in entry-level positions, so the SOC analyst jobs and salary ranges are available. Glassdoor estimates an average base salary of $71,000 for them as of March 2020, ranging from $50,000 to $97,000.
We wish you all the luck as you prepare for your new job and you fight against cyber foes on the front lines!
Get Deals and Discounts on our popular course