CISA – Certified Information Systems Auditor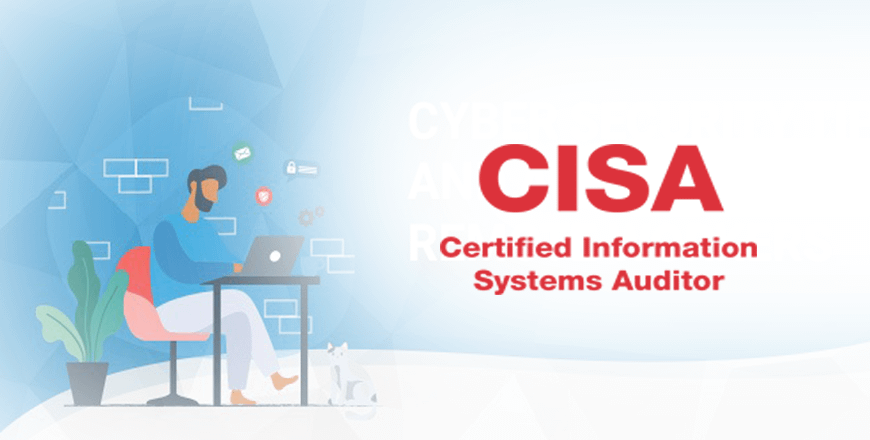 CISA – Certified Information Systems Auditor
Certified Information Security Manager (CISM) means  higher earning potential and career advancement. Recent independent studies consistently rank CISM as one of the highest paying and sought after IT certifications.
CISA COURSE HIGHLIGHTS
40 hrs of instructor-led training
CISA Online Test engine
Access to the recorded sessions
Certified & Experienced Trainers
Enhance your competitive advantage:
Demonstrate your information security management expertise.
The uniquely management-focused CISM Certification Course promotes international security practices and recognizes the individual who manages, designs, and oversees and assesses an enterprise's information security.
The Benefits of Certified Information Security Manager (CISM) Certification:
Get the CISM Training  certification that distinguishes you as having knowledge and experience in the development and management of an information security program.
CISM Impacts Your Career and Your Organization:
The demand for skilled information security management professionals is on the rise, and the CISM certification is the globally accepted standard of achievement in this area.
CISMs understand the business. They know how to manage and adapt technology to their enterprise and industry.
CISM Certification:
Demonstrates your understanding of the relationship between an information security program and broader business goals and objectives

Distinguishes you as having not only information security expertise, but also knowledge and experience in the development and management of an information security program

Puts you in an elite peer network

Is considered essential to ongoing education, career progression and value delivery to enterprises.
Why Employers Hire CISMs?
Enterprises and government agencies increasingly recognize, require and expect their IS and IT professionals to hold CISM certificates. 
CISM employees:
Identify critical issues and customize company-specific practices to support the governance of information and related technologies

Bring credibility to the enterprise for which they are employed

Take a comprehensive view of information systems security management and their relationship to organizational success

Demonstrate to enterprise customers their commitment to compliance, security and integrity; ultimately contributing to the attraction and retention of customers

Ensure that there is improved alignment between the organization's information security program and its broader goals and objectives

Provide the enterprise with a certification for Information security management that is recognized by multinational clients and enterprises, lending credibility to the enterprise
Certified Information Security Manager (CISM) Certification Job Practice:
The current CISM exam covers 4 information security management areas, each of which is further defined and detailed through Task & Knowledge statements. The four new domain headings of the 2017 Job Practice are relatively the same; however, the exam specifications (weighting) have shifted slightly.
Following is a brief description of these areas, their definitions and approximate percentage of test questions allocated to each area. These areas and statements were approved by the CISM Certification Working Group and represent a job practice analysis of the work performed by information security managers as validated by prominent industry leaders, subject matter experts and industry practitioners.
The below job practice is organized by domains that will be tested for the first time in 2017. Also, starting in 2017, the CISM exam will contain 150 questions testing the new job practice.
Certified Information Security Manager (CISM) Benefits:
Governance of Information Security.
Information Risk Management and Compliance.
Information Security Incident Management.
Information Security Program Development and Management
Salient Features of Certified Information Security Manager Training at Securium Solutions:
The CISM course at Securium Solutions is conducted under the supervision of a CISM instructor.
Simulated Tests are conducted to familiarize participants with the pattern and difficulty level of the real exam.
The training has been designed to maximize success in the CISM exam.
Exam Information
Duration: 4 Hours
Number of questions: 150
Question format: Multiple Choice
Passing marks: 450 out of 800
Exam language: English, French, German, Hebrew, Italian, Japanese, Korean, Spanish, Turkish, Chinese
Information System Auditing Process
Governance and Management of IT
Information Systems Acquisition
Development and Implementation
IS Operations and Business Resilience
Information Asset Security and Control
Be the first to add a review.
Please,
login
to leave a review